You are here
History Of Chamba
Long ago there was a king named, Raja Maru. He was ruling in district Chamba near around 500 AD at Bharmour region. After Raja Maru,  Raja Sahil Verman started to rule over Chamba and he change the capital from Bharmour to Chamba city. He had a daughter named Champavati.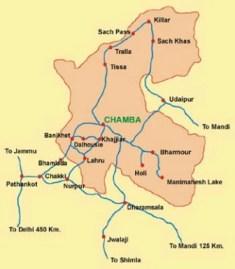 The city was named on her. There were total 67 kings ruled on Chamba between 500 AD to April 1948. Also, Chamba was under the control of British Rulers from 1846 to 1948 that is a period of 98 years. In Chamba city there are many  temples and places of worship. There are some festivals which are celebrated only in Chamba, namely Minjar Fair, Suhi Fair etc. These lasts for several days (about 4 to 7 days). There are many artists in Chamba. Chamba Rumaal, Chamba Chappal, Chamba Chukh (Chilly pickle) are some of the most famous local items.
   Chamba is a small village, which has faces so many historical changes. Many Kings ruled over this place, they made many kinds of changes also. But in these changes, the city have still kept its quality, purity and identity. Perhaps, this may be its quality on the basis of which the city has maintaned its dignity till now. Every year, millions of people visits from many places and countries, to see this small place and capture their sweet memories in their cameras and bring back with them.